CMU Portugal Visiting Students Program: Call for up to 8 Portuguese students to visit CMU in 2022
03/05/2022
---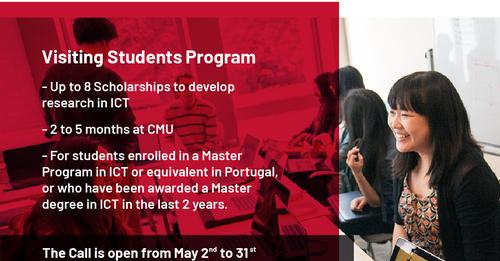 A Call for applications to the CMU Portugal Visiting Students Program is open until May 31st, 2022, aimed at research visits to Carnegie Mellon University during 2022 and completed by December 31st. The call is launched under the CMU Portugal Program and funded by Fundação para a Ciência e Tecnologia (FCT).
The CMU Portugal Visiting Students Program will allow up to 8 talented masters and master's students to immerse themselves in a research project at Carnegie Mellon. During 2 to 5 months, they have a chance to develop their knowledge and skills as researchers and explore new perspectives for graduate studies and career opportunities in cutting-edge ICT areas while being mentored by CMU's leading faculty and researchers.
Applicants must be Master's students in Portugal developing research in ICT-related areas, or who have completed their Master's degree in this area in the past 2 years.
Candidates must also be Portuguese citizens or foreign citizens with permanent residence in Portugal, affiliated with a Portuguese Higher Education Institution or Research Lab.
Candidates can apply through the online application form available at the Admissions and Scholarships page.