Online Advanced Training Program on Net-Zero Climate Emissions
29/11/2021
---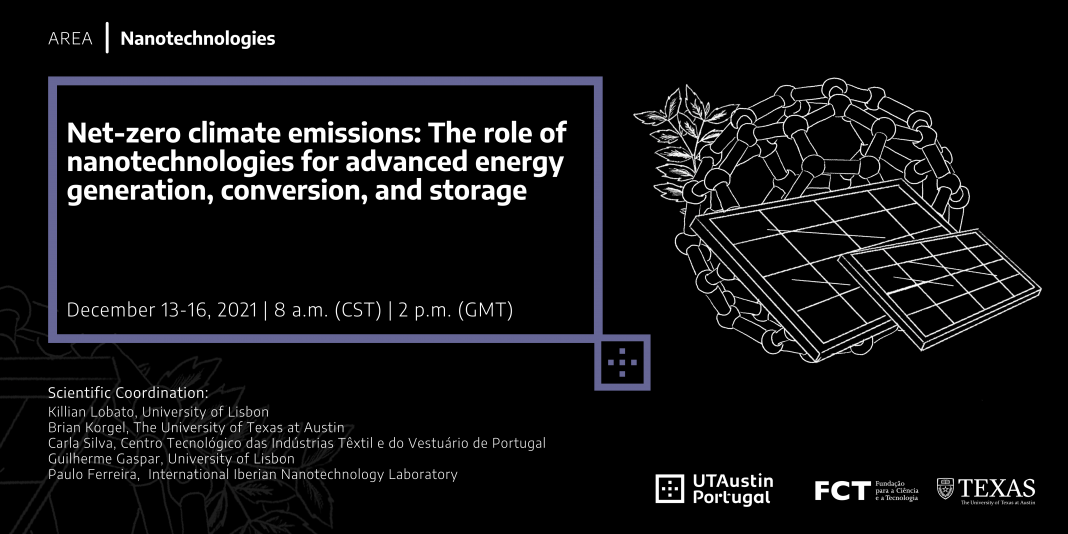 From December 13 to December 16 (2 p.m. Lisbon time | 8 a.m. Austin time) takes place the online course on Net-Zero Climate Emissions: The role of nanotechnologies for advanced energy generation, conversion, and storage, happening, provided by the UT Austin Portugal Program, the Portuguese Foundation for Science and Technology (FCT) and the University of Texas at Austin (UT Austin). Participation is free of charge but vacancies are limited.

Coordinated by Killian Lobato (Faculty of Sciences of the University of Lisbon, Portugal), Brian Korgel (the University of Texas at Austin, USA), Carla Silva (CITEVE, Portugal), Guilherme Gaspar (University of Lisbon, Portugal) and Paulo Ferreira (INL and IST, Portugal), the training program will provide industry and academia the technological and scientific pathways required for deployment of sustainable cost-effective large scale energy storage and conversion powered by renewable energies.
The training program is open to both people in academia and in industry. Attendees from academia (undergraduate and graduate students, as well as postdocs and researchers) are expected to be already working in the area proposed for this advanced training, or at least be interested in pivoting their activities into this area.

Course Agenda:
December 13 | The European Green Deal - The technological requirements for Net-Zero climate emissions by 2050
December 14 | Photovoltaics, current market and industry, and a technological outlook
December 15 | Energy storage (electrochemical batteries and supercapacitors, other potential technologies)
December 16 | Green fuel generation using renewable energy (H2 generation, synthetics fuels)

To participate, attendees must fill out this form until December 9.